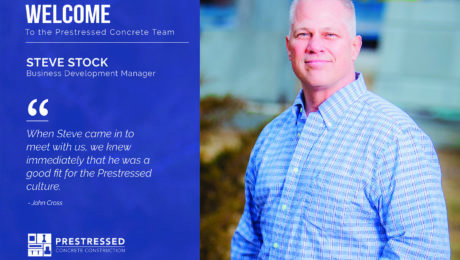 Steve joined our team in August of 2017 as Business Development Manager. His extensive sales experience dates back to 1983; he served as Sales Manager for two outside concrete companies from 2005 to 2013. In his new role, Steve works with both potential and existing clients to pursue projects that best meet their construction needs. "When Steve came in to meet with us, we knew immediately that he was a good fit for the Prestressed culture. The interview is set based on a candidate's on-paper qualifications. But, the hiring process is based on the fit. When that fit becomes apparent, the rest just falls into place. Steve understands that positive relationships with clients, architects, and communities are paramount to the construction process. Once we learned that, the choice was obvious," said John Cross.
"I'm excited about this opportunity. From day one, I could see, and understood, their vision for the company's future. I'm looking forward to working with this seasoned and professional team as we pursue that vision together." – Steve Stock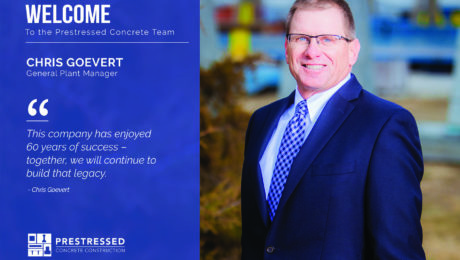 Prestressed Concrete Company welcomes Chris Goevert, General Plant Manager, to our team. With more than 27 years of experience in the commercial construction industry, Chris is a skilled leader with an unsurpassed knowledge of field practices and project management. "Joining the Prestressed team at this point in my career is a real-life example of 'right place, right time.' I am blessed to work with these dedicated employees whose cumulative goals and determination push the envelope of excellence beyond expectation. This company has enjoyed 60 years of success – together, we will continue to build that legacy." – Chris Goevert
Tuesday, 14 November 2017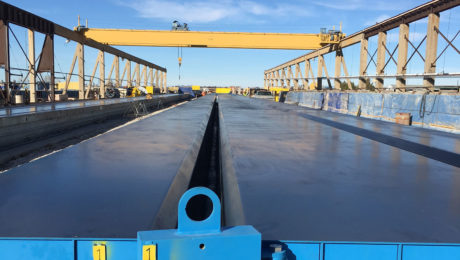 Prestressed Concrete Construction, located in Newton, Kansas, announces their product-line expansion to include double tees with panels measuring 12 feet in width, each individually prestressed up to 650,000 pounds (650 Kips).  Poured locally, the new 12 foot double tee panels will have a 30-inch leg depth with a minimum 2 inch deck; additional product specifications include the prestressing of each 12 foot panel leg.  The new equipment provides PCC with the capacity to better serve prospective warehouse and parking garage project owners.  The plant expansion also includes upgrades to all onsite concrete batch plants and additions to their panel placement equipment fleet.
"We are excited to offer our customers the 12 foot wide panel.  Previous panel pours were limited to 8 foot panel sections.  From a value standpoint, the 12 footers will reduce the piece count of their product orders, which, in turn, reduces both the number of jobsite panel delivery trips and the number of pieces required to install and complete the project.  It's a move that will decrease overall consumer cost, and provides an option that has been largely otherwise unavailable.  PCC has always been known for superior products.  The plant additions and improvements just up our game that much more," said General Manager, Chris Goevert.  Production is slated for December 2017.